The average adviser earns "around $130,000 to $170,000" according to Ben Travers, a divisional partner at Perpetual Private, which is above several other estimates on adviser remuneration from industry observers.
Two weeks ago, Financial Planning Association CEO, Dante De Gori, observed that the 'typical' adviser earns $125,000 p/a.
Travers doesn't think the estimate is too far off, but reckons that even if super and bonuses weren't included, the figure probably sits a little higher, "depending on experience, education and the ability to attract new business."
Travers acknowledges, however, that any estimate is likely to be complex due to a raft of variables. One he notes is the question of whether bank-salaried advisers are included.
"It depends whether you including the bank model here, which is already starting to unwind," Travers explains. He says that in this model junior advisers manage clients with investable funds up to around $300,000 to $400,000, while senior advisers and private bankers managing clients with up to $1,000,000 and beyond.
As the banks divest their wealth arms, Travers argues, the number of junior representatives on lower salaries of between $80,000 and $100,000 will decrease. So, while $125,000 may be close to the right number now, it should increase as the model "skews".
"We have seen hundreds of such advisers leave in the past 6 months," he says. "This will only continue given approximately 30 per cent of advisers on the register work for the banks."
Others suggest figures that are more in line with De Gori's estimate. In January, Kaizen Recruitment senior consultant Fabian Ruggieri told Professional Planner that an adviser who only serviced client books would earn "$100,000 to $120,000", while experienced advisers who can build a book and get referral arrangements in place" would earn "around $120,000 to $150,000".
"As a salary, that's a little higher than previous years," Ruggieri noted.
Balanced scorecard
According to Sue Viskovic, managing director of Elixir Consulting, trying to pin down the industry average is problematic. "Quantitative research always quotes a range and you never know what's included," she says.
Elixir's 2018 Adviser Remuneration report provides a broad range of adviser salaries (pictured). While not providing an industry average, the base salaries outlined in Elixir's report triangulate on a salary slightly north of $125,000. With bonuses stretching above $50,000, total average remuneration would be much higher again.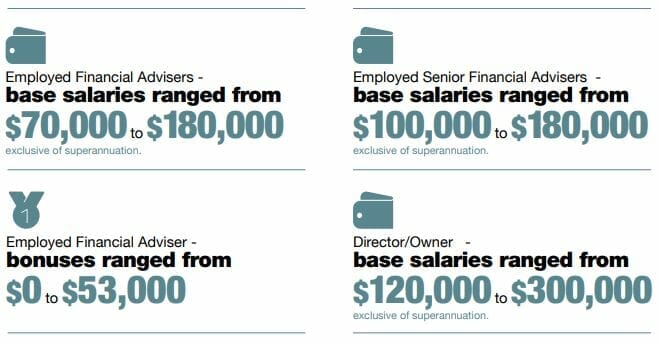 The report outlines six example remuneration models – most of which include a base salary and a bonus calculated in different ways – while also noting the value of non-financial benefits such as paid education. It also addresses conflicted remuneration and the role compliance plays in determining salaries, with The Fold Legal's managing director, Claire Wivell-Plater, making the point that performance benefits are not necessarily conflicted.
"This is not an exact science," Wivell-Plater says, before recommending advisers pay close attention to ASIC's regulatory guide 246 and it's "balanced scorecard" approach when structuring remuneration packages.
Of the six remuneration models in the study, Wivell-Plater says a pooled model that is based on the business unit's profitability is the best one to use, "where an adviser and support staff are rewarded for their contribution to that pool".